Not Strictly Bluegrass
The classic album from Chris Moreton, featuring 15 all-new tracks, still on sale.
£10 (+ shipping)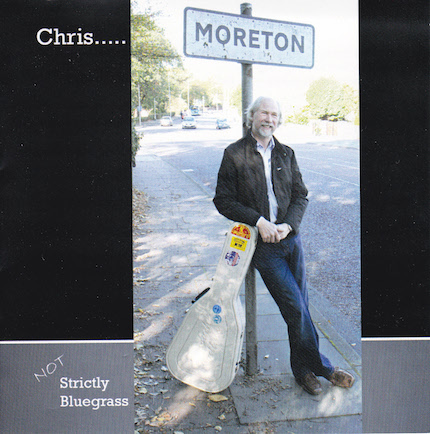 ---
"Chris, ably assisted by his wife Wendy, more than proves his Bluegrass credentials… [Chris] clearly demonstrates his mastery, skill and empathy with the music. A 'must have CD'."
Nigel Canter
"Exciting and dynamic as ever… Your playing carries the excitement that reminds me of how I was inspired all those years ago… A voice that's improved like a vintage wine."
Brian Dowdall
"The usual overall Moreton high quality… everything has a clear and interesting melody, which should appeal to a wide audience."
John Baldry
---
Track listing:
California Blues (2:43)
Clinch Mountain Backstep (1:38)
Grey is the New Blonde (3:01)
The Promise (2:58)
Cattle in the Cane (1:44)
Devil "Came Back" to Georgia (4:56)
Freshwater East (2:42)
The D18 Song (3:42)
Angelina Baker (2:35)
I've Been Everywhere (2:49)
Ginseng Sullivan (2:46)
Easy Ridin' (1:53)
Tennessee Stud (4:17)
Rollin' Past Ya' (1:44)
Gonna Lay Down My Old Guitar (2:59)
Not Strictly Bluegrass is delivered first class in a shrink-wrapped jewel case with a 4-page booklet of track information and instrument photos.
---
Want a taste of what's on the CD? Below are some samples songs:
(Also available to listen on SoundCloud.)